Education Projects

Arcadia Easter Bush Nursery
Crompton House School
Hollinwood Academy Extension
Millport Field Studies Centre
Oldham Academy North
Reaseheath: Estates Maintenance
Reaseheath: Sports and Agriculture
Reaseheath: Sports Turf Workshop
Stanley Matthews Sports Centre
Staffs Uni: Media Centre
Walsall: Fibbersley Primary School
Wallsall: Moorcroft Wood School
Brookfields Special School
Tilehurst, Reading, Berkshire
Sector: Education & Special Needs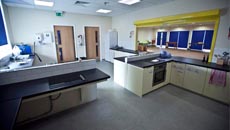 Teaching Kitchen.
Background
Brookfields School were teaching Key Stage 5 Pupils in a rapidly deteriorating Portacabin. Space was cramped, rather battered and student numbers growing. The School had lost funding to procure by traditional means and opted to go the offsite construction route to reduce the overall time on site and deliver a building for the next School year. 

The Design and Construction Programme was tight! A Planning Application was lodged in February with Building Regulations drawings being prepared whilst these were being agreed so that the Team were ready to go into production as soon as Planning Approval was achieved in June. Initial site preparation works commenced as soon as Students left for the summer break and main construction, POD delivery and erection was underway in July and August, which then allowed quieter fixtures and finishes operations to carry on in September when the School itself returned. The School took up occupation in late September and final external works operations were completed in October.  
Facilities
The School required four classrooms to allow separate teaching of pupils with ASD, SLD and PMLD as well as ICT and Food Technology, together with a Sensory Room, Chill Out Room, Small Group Tutorial and Common Room.  The unit was designed to wrap around to provide an internal courtyard that would allow Students access to secure external space.  Further external spaces were provided to the perimeter of the building with all classrooms having their own access doors to external space so that teaching could easily be taken outside on sunny days without disturbing the other adjacent classes.
The School are so delighted with their facilities that they have since procured another replacement building via the same offsite route.
Status: Completed Sept 2010
Value: £1.2m
Type: New Build - using Offsite Construction
Contract: Design and Build
Client: Berkshire Education Authority and Brookfeilds School
Services: SI Sealy
Contractor: Extraspace Solutions

Associate and Project Architect whilst working at Hulme Upright