Northmoor Academy (Grange) 3FE Primary School
Oldham, Lancashire
Sector: Education
Offsite Awards Finalist 2017: Best Use of Volumetric Modular Technology & Education Project of the Year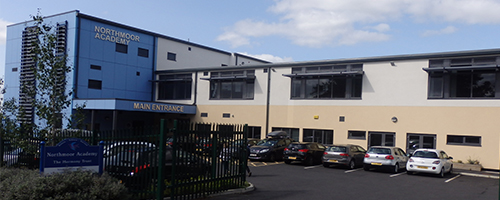 Front Entrance of Grange Primary School
Background
Following successful design of another Primary School for Oldham BC we were asked to look at the design for this Primary School applying the same rates and design ethos. The Council needed to provide additional primary pupil places for September 2016, but to procure a new School utilising traditional tendering methods would have meant delivery some 6 to 10 months after needed.
Ethos
The School is designed to a modified EFA template using PSB Design guidance for the Classroom and Admin block and provides 630 primary places and a 28 place Nursery utilising offsite construction methods to deliver the School in time for Sept 2016.
Facilities
The contract involved the demolition of the existing Grange Secondary School that already occupied the site, of 1960's construction. The site falls some 12m from East to West. The School occupies the top plateau with a new Car Park, new Sports, Social and Play Playing facilities occupying a central plateu and two Sports MUGA's and parking facilities for Staff occupying a bottom plateau.
A 3 storey Teaching block runs North South with main fenestration facing West across the Sports and Play facilities.

A 2 storey Admin block with Admin, Reception, Entrance, Studio and Kitchen at ground floor and 3 further KS2 Classrooms at first floor faces South.
A 3 storey specialist Teaching block faces West and South, identified as a separate element by blue cladding. This houses the Nursery at ground floor, Learning Resource Centre, SEN spaces and Specialist Teaching Classrooms at first and second floor.
All teaching spaces are shaded with brieze soleil and the South facing Classrooms are also fitted with light shelves to cut solar glare. The South facing roof is fitted with two rows of solar panels to provide power for the School. All floors are fitted with underfloor heating to provide low heat, providing a high level of comfort and reduced energy demand. The timber panelled walls are well insulated and good quality windows together provide a high performance building with low energy demand. All materials have been selected with excellent performance standard and green ratings.
The School has a KS1 playground running allong the 3 storey block facing West and beyond this a tiered seating area has been built into the site levels to form an ampitheatre facing West overlooking the grassed area and Sports facilities beyond, this allows Students and Visitors to watch sports events, activites and drama in an external environment from an ampitheatre style space.
The KS2 playground is tucked into the rear of the Teaching and Hall block facing North and provides outdoor activity and social spaces.
All of the above facilities are constructed as offsite modules. Two halls and service rooms have been constructed as traditional on site constructed spaces and are tucked in behind the Admin block.

3D Image of Front Entrance of Grange Primary School