Healthcare Projects

Flue Vaccine Plant
Haywood Hospital
Leek Moorlands Hospital
Leek, Staffordshire
Sector: Healthcare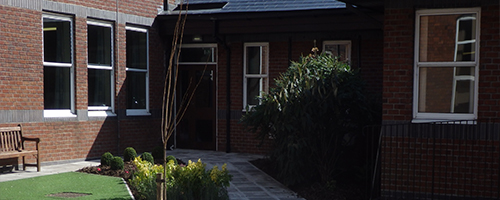 Background
Leek Moorlands Hospital sits on the edge of the Town Centre and is a community Hospital with two Wards providing Sub-Acute and Intermediate care. The ground floor comprises a minor injuries and illness unit.
The works comprised re-roofing of the central block constructed approximately 28 years ago which were flanked by three buildings two of which were Grade II Listed. Existing roof insulation had been identified as a fire risk. The Hospital agreed to close the first floor ward for a two week period whilst these materials were removed, but could not afford to close any of the other departments; it was therefore necessary to carry out the works as speedily as possible whilst all departments remained open. This was a 14 week programme.
The Solution
Because of the abutment to a Listed Building it was necessary to minimise the increase in thickness of roof finishes, whilst still improving the thermal performance of the fabric. We proposed a deviation from the Trusts normal re-roofing specification utilising a breathable insulated sarking board, battens and counter battens, a breathable insulated roofing membrane finished with a thin fibre cement slate; a more sustainable solution, instead of a more traditional sarking, foil backed rigid insulating sarking board, battens counterbattens and tiles. Details and materials were agreed with the local Conservation Officer.

Results
Works commenced on site in Sept and were completed in Nov 2015. The sarking allowed the existing roof to breath and has vastly improved thermal temperatures in the Wards and Minor Injuries Unit below which has meant that radiators have been turned off and the internal environment much improved. The fabric now also provides more efficient acoustics. Works were carried out whilst the Wards and Acute Unit below were in occupation; Staff and Patients reported that they were unaware works were taking place immediately overhead.

Status: Completed November 2015
Value: £300,000
Type: Re-roofing and Landscaping
Contract: Full service Traditional Contract RIBA Stages 1 - 7.
Client: Staffordshire & Stoke on Trent Partnership NHS Trust
Architect & CA: bpArchitecture
Quantity Surveyor: Summers Inman
Structural Engineer: ABA Consulting Engineers
M&E Consultant: N/A
Principal Designer: Summers Inman
Contractor: Kettle & Talbot