Moss House Barns, Bignal End
Sector: Residential- Private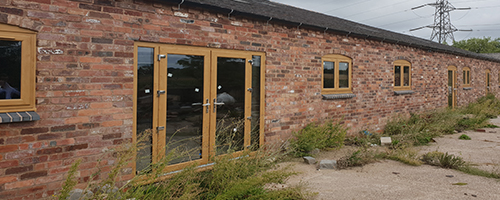 Background

bpArchitecture were originally appointed by another client to obtain planning approval for the conversion of the existing barn into two market dwellings and three holiday lets.
We were appointed by the client purchasing the market dwellings to produce Stage 4 drawings having achieved approval for the conversion of the barns on planning appeal.
History
The barns were originally constructed in the 1700s with a two-storey infill block constructed circa 1940-45 and a single storey lean to extension was constructed at a later date circa 1961.
The barns fell into disuse as agricultural buildings when the farm ceased to operate. Up until 2014 the barns were sub-divided and used for light industrial storage / domestic storage and were slowly falling into disrepair.
Facilities
The larger barn was divided into two and has been converted into two market dwellings.
Barn 1 has a kitchen and large living/dining space with two bedrooms on the ground floor, a feature staircase providing access to the upper floor and two further bedrooms. All bedrooms are provided with en-suite shower rooms/bathrooms.
Barn 2 has a large entrance hall, cloakroom leading to a bedroom and home office with a very large living/dining room and separate kitchen to the rear, a feature staircase leads to a balconied area with three bedrooms, all with en-suite shower rooms.
The barns incorporate a courtyard to provide parking and entrance to the barns and a rear courtyard which is to be converted into a garden and seating area which overlooks a public right of way and fields with uninterupted views for five miles.
Progess on Site
The two market dwellings are superstructure complete pending completion of internal fit out.
All brickwork in the external walls is existing brickwork turned to reinstate the former appearance.
The roof has been reconstructed and strengthened as this was dilapidated, existing tiles have been fully reused to the roof.
The ridge includes a bat ridge detail which provides access along the full ridge of the barn suitable for accommodating Pipistrelle Bats who were found to be foraging when bat surveys were carried out.