Newstead Academy
Waterside Drive, Stoke on Trent
Sector: Education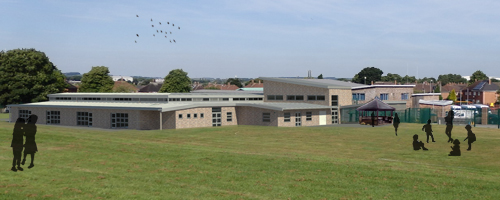 .
Background
bpArchitecture were appointed for RIBA Stage 2 to 7 on this project. Stoke on Trent City Council had agreed a concept design with the School and we were asked to take this forward. The School had been experiencing increased student numbers since 2010 and were now seriously over subscribed. The proposal was to refurbish some of the existing Classrooms and extend the School from 1FE to 2FE with two nursery classes.
Ethos
The School design was to extend and reflect the existing double aspect with clear storey accommodation and provides 420 primary places and 52 nursery places.
Re-design
bpArchitecture produced drawings and submitted them for Planning Application at Stage 3. The proposals were costed and over budget largely due to additional costs associated with site levels and the need to extend the School on one level. There were also issues with development into Green Belt and playing fields which needed to be justified. The proposals therefore needed to accommodate enhancement of the Sports Facilities and levels on site to justify extension into playing field space.
Facilities
The existing School Classrooms were reconfigured to accommodate Nursery, Reception and KS1 Classroom space, together with adjustments to the playgrounds associated with the Classrooms and refurbishment of toilet accommodation.
An extension was constructed to provide 8 new KS2 Classrooms and associated store and toilet accommodation. Classrooms included ceilings designed to comply with the latest BB93 acoustic requirements, which would allow pupils with learning and hearing difficulties to be taught in main stream school. Toilet accommodation provides unisex toilets in single compartments to provide more privacy for pupils and was provided as a result of requests from pupils to avoid bullying issues.
The proposals also include extension of the existing double height hall space to accommodate increased numbers of pupils for dining and assembly.
The proposals also include extension to the existing Kitchen and the complete refurbishement to convert the Kitchen from re-heat style to full service Kitchen.
New playgrounds were provided to the rear for KS2 pupils.
The proposals also include formation of an internal courtyard to provide outdoor teaching space formed by wrapping the new extension around. An arrival courtyard is also provided to provide space for KS2 parents to wait for their children and to segregate the entrance from playground space.
Sports Facilities
An existing tarmac area is being improved to form a formal MUGA including sports markings. The rear playing field is being adjusted as part of a put and fill exercise to provide extended sports playing surface that is suitable for sport whereas the existing playing field sloped and was unsuitable for sport.
Sustainability
The proposals include provision of a PV Array on the South roof to provide electric generation for the School. All Classrooms are provided with external canopies which provide solar protection to Classroom windows as well as provision of external teaching space.
The external walls are insulated to more than current Part L requirements which together with high performance windows and provision of fully insulated composite roof systems reduce the overall building energy demand.