Residential Projects - Private

Birch Valley
Coopers Way
Daisy Bank Farm
Denbigh Close
Dimsdale
Eaves Farmhouse
Firwood Road
Gayton
Grosvenor
Hassall Road
Kinndersley Avenue
Lawton Road
Little Aston
Little Aston Road
Little Knowles Farm
Merrivale
Mill Meece
Newmill
Park Road
Pendinas
Portal Mews
Quarry Avenue
Regency Drive
Stable Cottage
Suger Well Farm
The Nelson
Walton Place
Padgbury Lane, Congleton
Sector: Residential- Private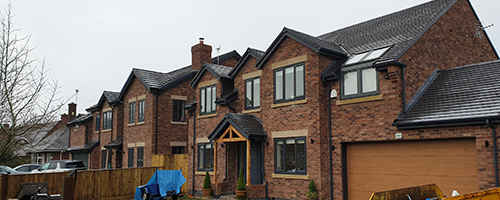 Background

We were appointed by our client to design two new dwellings to replace their existing bungalow and to submit an RIBA Stage 3 planning application. Planning Approval was acquired for the demolition of the existing bungalow and to erect two new 5 bedroom detached dwellings.

One dwelling would be inhabited by our client and the other dwelling was to be sold at market. Following Planning Approval, one dwelling was sold at market and we were appointed by both clients to provide RIBA Stage 4 Technical Drawings for Building Regulation Approval.

Construction of the dwellings were undertaken simultaneously by both clients and we were appointed by our initial client under RIBA Stage 6 to inspect works throughout the construction phase providing a incomplete/defects schedule and to finally issue a completion certificate.
Ethos

Our Client's brief was to provide two architecturally designed five bedroom dwellings with a WOW factor, designed to fit in with existing dwellings on the street scene but make the best use of the site and views to the rear.

The dwellings are sited within a residential neighbourhood of Congleton, an analysis of the local context was undertaken to establish the size, mass and orientation of surrounding dwellings. The analysis determined the exact scale and massing of which the site could accommodate for two dwellings, given the clients brief. The proposed dwellings were designed to respond to the variety of materials and details found locally in the mix of property tenures. Being sited within an established residential neighbourhood the proposals were designed so not to impact upon the neighbouring properties, not restricting light or affecting privacy.

The site is ideally situated on the edge of a busy town centre in a quiet cul-de-sac in an affluent area of Congleton. Our clients wanted 'comfortable' accommodation for their family with plenty of light and space, designed with appearance, energy efficiency and low running costs in mind; as well as accommodation to allow them to entertain family and friends visiting them.
Sustainability
To ensure a sustainable development we designed both dwellings in accordance with the Governments 'National Space Standards and Technical Requirements' and in accordance with Lifetime Home Standards. We also incorporated renewable energy solutions into the design to reduce energy consumption and to lower running costs.
Status: Tender
Value: Construction Value £350 k
Market Value £555 to £600 k
Type: New Build, Timber Frame
Contract: Self-Build
Client: Private
Architect: bpArchitecture
Structural Engineer: Aspin Consulting / Timber Frame Specialist
Principal Designer:bpArchitecture
Sub-Contractor: Timber Frame Contractor