Education Projects

Arcadia Easter Bush Nursery
Crompton House School
Hollinwood Academy Extension
Millport Field Studies Centre
Oldham Academy North
Reaseheath: Estates Maintenance
Reaseheath: Sports and Agriculture
Reaseheath: Sports Turf Workshop
Stanley Matthews Sports Centre
Staffs Uni: Media Centre
Walsall: Fibbersley Primary School
Wallsall: Moorcroft Wood School
Entry Pre Entry
Reaseheath College, Nantwich, Cheshire
Sector: Education & Special Needs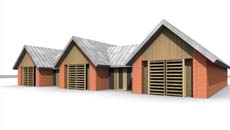 Front Elevation.
Background
The facility was originally designed as part of the Phase 3 redevelopment of the entire Horticulture Department. Production information at the time was taken to Stage F1 and Stage 1 D&B tender and was shovel ready before LSC funding was shelved as part of the Governments 2010 funding issues.
However, as the Entry Pre Entry facility and finding a new home for Students with Learning Needs was important, alternative funding was found and the Entry Pre Entry building was constructed under a D&B tender as part of the Phase 4 redevelopment proposals.
Ethos
Designed as a Timber Clad Teaching annex; to form one side of an enclosed courtyard, with horicultural planting beds for the Students in the centre.
Facilities
Located immediately opposite the Student HUB in the centre of the College campus, the building is one of the main buildings on the Horticulture campus. Designed as a Part Brick and Part Timber Clad large Barn. The facility contains two main Classrooms with bespoke facilities for Entry and Pre Entry level Students with Specialist Needs, Tutorial and SEN resource rooms.
Two further Classrooms provide facilities for IT and traditional Teaching Classrooms, shared with the adjacent Horticulture Department.
Mobility hoists are also incorporated into the two main Teaching Classrooms, large corridor together with an assisted toilet and student locker areas.
The building is the frontispiece to a courtyard style development, the courtyard itself providing secure external space providing 3 garden planting zones for the SEN students.


Status: Project taken to Stage F1 in Phase 3
Then Procured via alternative funding in Phase 4
Value: £1m
Type: New Build
Contract: Design and Build with Architect novated at Stage F1
Client: Reaseheath College
Architect: Associate and Project Architect whilst working for Hulme Upright
Project Manager: MACE
Quantity Surveyor: Sense
Structural Engineer: ABA Consulting Engineers
M&E Consultant: Steven Hunt Associates (SHA)