Victoria Community Garden
Sector: Landscape & External Works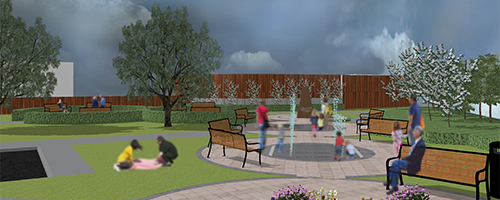 3D view of the Community Garden
Background
bpArchitecture were appointed by Biddulph Town Council for RIBA Stage 1 to 5 on this project.

We produced an urban design concept to rationalise the overall existing garden space and provide an improved layout for community use. 

The Town Council asked us to look at rationalising the overall layout of the site and to include in the proposals i) a mining memorial, ii) potential fountains, iii) external paved spaces and landscaped areas better suited to Community events.  The original garden area had been affected by the construction of Sainsburys Store and the stopping up of Station Road when the By Pass was built.

The project was to be funded by money set aside from 106 Funds for community use when Sainsburys Store was constructed.  There was also a small amount of funds left from the development of the High Street that could be used for the right scheme.
Ethos/Scheme Proposals
We surveyed the site and produced a number of sketch proposals which looked at the concept of 'Memorial', 'Fun and Play', 'Quiet and Relaxing' and incorporating of the area occupied by Stanley Road into the Scheme.

We also looked at movement of traffic on the street, merging of one and two way flow, delivery vehicles and their need to turn and Visitors to the Church and Community Centre.

It was noted that delivery vehicles attempting to reverse because of the one way system were mounting the kerb on both sides of the road and were hindered by parked cars on Station Road.
Solution
We produced scheme proposals which included six circular paved areas for pedestrian use creating functional spaces for community use.
The proposals used two Axis centred on one of the existing planting bays to align six interconnected circular areas.
SMDC approved these drawings however due to not being able to come to an agreement over some of the land owned by others only half of the scheme will now go ahead.