Residential Projects - Developments

Failings Park
Regency Drive
Walton Place
Moss House Barns
Sandy Lane
Prize Buildings
Halls Road
Bournes Bank
Coloseum Terrace
Penarth Port Marina
Codagan Place
Chelsea Harbour
Cambridge Gate
Walton Place, Newcastle under Lyme
Sector: Residential - Developments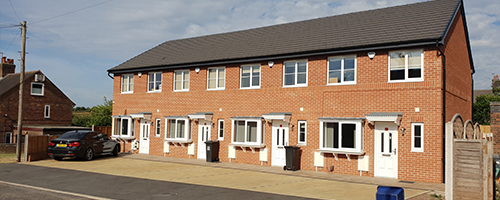 Background

We were appointed by WJ North Ltd to submit an RIBA Stage 3 planning application for the erection of four terraced dwellings to house their workforce. The site lies within an established post war residential neighbourhood in Newcastle under Lyme. The site originally housed semi-detached dwellings that were demolished due to subsidence from mining issues.
We were appointed to design the dwellings based on a previous pro-forma of terraces erected by WJ North Ltd. However, we tweaked the layouts to conform with the National Described Space Standards. We positioned the dwellings on the site to provide adequate parking spaces to the front of the dwellings and a garden space that complied with the local government space about dwellings guidance document.
The client's brief was to design the terraces so that they were quick to construct and complied with all planning requirements and building regulations. The mining issues were overcome and a raft foundation was engineered and constructed. The dwellings were designed with a traditional brick external leaf to blend with local dwellings. A timber frame internal leaf was constructed offsite and was lifted in and insulated onsite. Metal web floor joists were used to allow services to be installed quickly.
We were appointed to undertake RIBA Stage 4 drawings for Building Regulation approval. It was important to detail the dwellings so that they met Part M accessibility requirements, Part L thermal efficiency requirements and Part E acoustic requirements. Water efficiency calculations and rainwater calculations were also undertaken so that the dwellings fully complied with buildings regulations. Approval was granted and construction works were completed soon after.
Facilities

Four compact 3 bedroom dwellings were provided that fulfilled our clients brief beyond expectation. All site, planning and building regulations were complied with and all dwellings are now fully occupied with WJ North workers. The dwellings were also featured on the BBC programme 'Homes under the Hammer'.
Sustainability
All dwellings were designed to comply with Part L thermal efficiency requirements, saving energy and running costs.
Status: Completed
Value: Construction Value £375 k
Type: New Build, Timber Frame
Contract: Self-Build
Client: WJ North Ltd
Architect: bpArchitecture
Structural Engineer: Rhodes & Partners
Principal Designer:bpArchitecture